Fundelina is a Premium quality product containing premium ingredients and 13% Hazelnuts of high quality. It is 100% natural, it has no preservatives, and it has delicious taste and smooth consistency.
Fundelina combines Fun & delicious taste made of natural ingredients. We never use artificial colors, flavors, or preservatives.

Fundelina spreads are ideal for breakfast as they supply energy to face a demanding day, but you can also enjoy them at any time of day, you can serve them in many ways, you can combine them with cookies, biscuits, croissants, fruits, ice cream, bagels and more, and to include them in countless recipes for a host of tasty treats.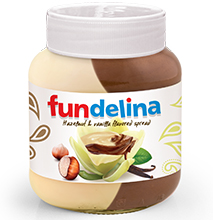 Fundelina Hazelnut & Vanilla flavored spread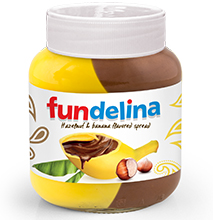 Fundelina Hazelnut & Banana flavored spread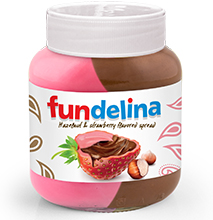 Fundelina Hazelnut & Strawberry flavored spread

Fundelina is available in 350g & 700g glass jars, in four flavors.